"Whereas ye know not what shall be on the morrow. For what is your life?
It is even a vapour, that appeareth for a little time, and then vanisheth away."
James 4:14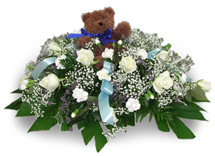 You know that I work at a flower shop (A Moment of Grace Florist). I really enjoy it; the LORD has blessed me with a good boss. But, being in the floral industry isn't all about making flowers for gentlemen to send to their special ladies', or congratulations on a birth, or making a groom and bride's day special with that lovely touch of color and fragrance… we also do a LOT of funeral work. Not everyone that dies has lived what is called a "full, long, life". I have made arrangements for all kinds of funerals, infants, teenagers, young adults, middle aged people and yes, the elderly. There were a few funerals when I got home from the retreat that have especially been thought provoking to me and I wanted to share a few thoughts with you… my dear friends, my brothers and sisters in the Blood of Jesus Christ. My only hope is that it will encourage and provoke you to continue in your love and zeal for Christ! We are above all men most blessed! Before I go further, I want to say… it is good to dwell in the house of mourning as Ecclesiastes says. I see the fruit and provocation that comes from it!
…
A couple of weeks ago we got a phone call from the funeral home to place an order for a family. Their 17 year old son had killed himself, had committed suicide. Huh?! 17? What was he thinking? What could possibly have been so bad that you would take your own life at 17 years of age? Those were some of my initial thoughts after hanging up the phone with his broken hearted family's order in hand. The young man had one brother and several young cousins that he left his parents to tell the awful news to and try to make sense of for. At the flower shop we will often read the deceased person's obituary to learn a little about them. After reading the short obid, his death no longer surprised me. He had no hope! He loved rap, the devil's music, didn't just listen to it, but wrote it himself. His whole life was centered around that and his video games (we put his headphones and controller in the casket spray) That was what he was remembered for… His life was full of death and destruction and upon that path of hopelessness and darkness he trod until it became too much and he sent his soul quickly before his Creator and Judge and King. What misery! What a terrible end! It made me think of how hopeful our God is! How we should not be cast down but be full of joy and peace in believing! I am so overwhelmed with thankfulness! Added to that was the thought of the importance of guarding our inputs.
On a slightly different note, another 17 year old was killed. On a clear and bright day during hunting season a young man made himself comfortable in his deer stand perched up in a tree. He sat in the stillness and awaited his prey with a quiet patience as the sun sank into the trees. At home Chad's parents waited for their son who would never walk home again. When Chad didn't show and hadn't answered his parents' messages on his phone, a worried father went looking for his dear son… he came upon the lifeless form of his boy at the bottom of the tree. It appeared that Chad had gotten down with his gun in hand, but forgot his phone and other gear up in the tree and on his return up to fetch them down he had accidently fired his gun and it had killed him instantly. Was he ready to die? What had he done with his life? Am I…are we… ready to die? What have we done or are we doing with our lives? What will we be doing/thinking/saying the instant we are taken up to stand before the throne of God?
Lastly, flowers went out for a 37 year old man. He had gotten the flu, it turned into pneumonia and he died in the hospital. Joseph left behind his young wife and 4 children, the youngest a girl of 1 ½ years, the oldest a boy of 10. To witness the pain of that wife was heart rending and to hear the 10 year old son choosing each of the children's favorite colors for the roses on the heart pillow that would be placed in the casket with the lifeless form of their much loved daddy was hard. I printed all the script for his funeral pieces… "Loving Son", "Beloved Husband", "Loving Daddy", "Dear Uncle" etc. His sister came in to talk to me and be shown all of the finished pieces for her dead brother's funeral. What was this man's legacy? What dots did he have to connect in his life? Did it bring others to glorify Christ? Now I ask myself those questions too… What will my legacy be? What dots are being connected in my life that will bring either glory or reproach upon the name of Christ? And if someone were to die that I hold dear…would I trust God and be full of Hope? Or lost in misery?
The stories could go on…and on…an on…
We're not guaranteed another breath…what are we doing with the one we have at this moment? Oh that we would walk worthy of the calling and salvation we have received at the hand of the LORD our God through the Blood of His innocent Son, our Saviour, Brother and King, Jesus Christ the Righteous!